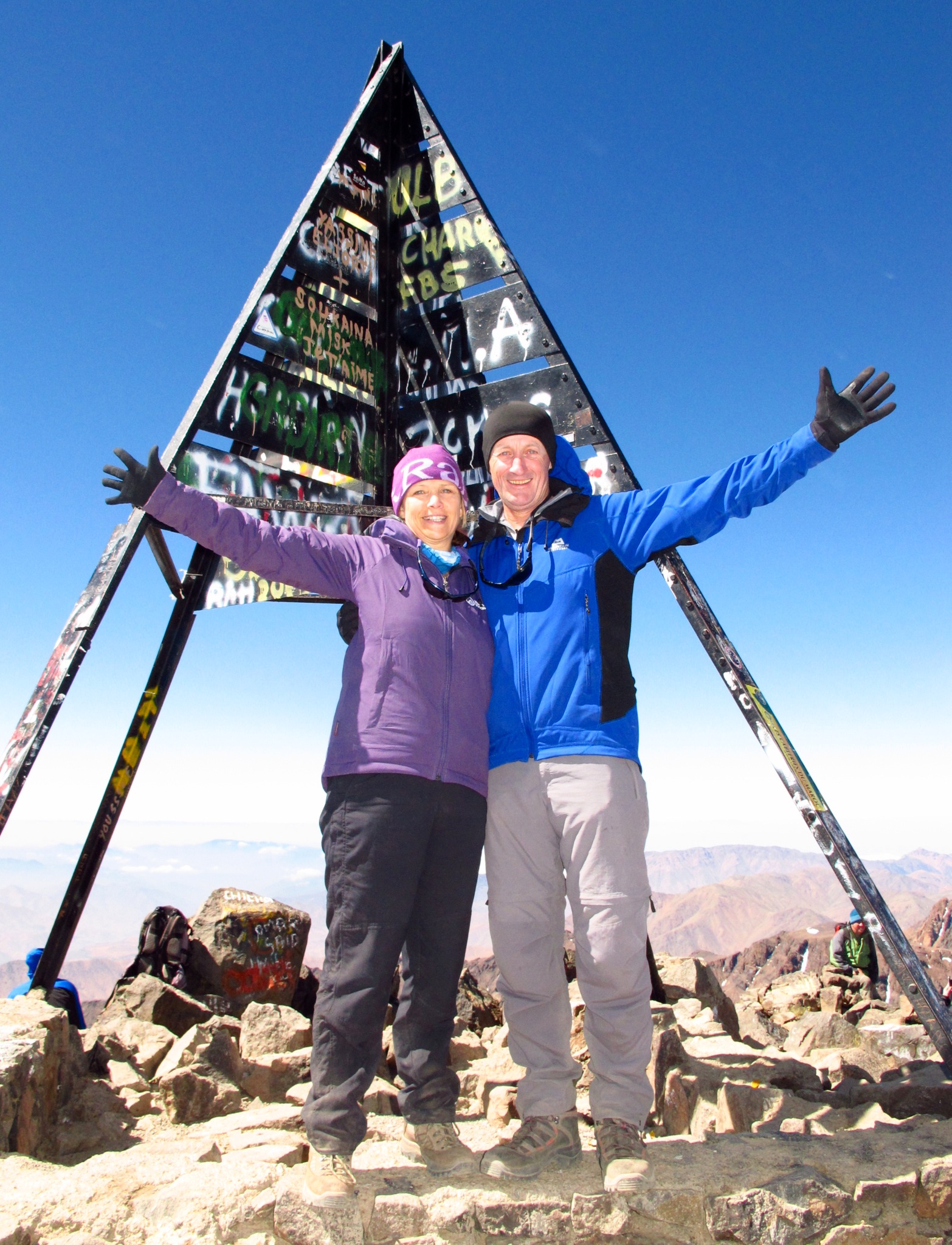 Mount Toubkal Climb
Mt Toubkal stands 4167m high in Moroccos's High-Atlas mountains, and is the tallest peak in North Africa. Close to the vibrant city of Marrakesh (our base location) Mt Toubkal is a 'non-technical' peak and an ideal introduction to High Altitude trekking.
Mount Toubkal Climb
The High Atlas, the greatest mountain range of North Africa, and perhaps the most beautiful and intriguing area of Morocco. It has retained a rugged remoteness, which until recent decades has remained virtually unchanged, and contains villages where the way of life has remained the same for centuries.
Deep gorges and broad valleys divide the country where for centuries the fascinating and traditionally ferocious Berber people have found refuge and fought back the many invaders who have tried to invade Morocco.
The Atlas Mountains are a rocky range over 500 kilometers long creating a great diversity of climates and landscapes, with several peaks rising to over 4000 meters and most of them being readily accessible to the average hill walker.
Let Imp Adventures guide you up North Africa's highest mountain, Mount Toubkal, at 4167 metres it is the crown of the Moroccan High Atlas mountains and a real remote mountain challenge.
Our trek will take 3 days to complete with a short stay in Marrakech at either end. We will use mules to convey our heavy baggage throughout the trek and utilise basic refuges each night whilst trekking.

This trek is suitable for all ages and abilities and will be a real journey of discovery and a good insight into the Berbers way of life.
Trip Information
Dates & Prices: View Prices
Price Rate: £750
(inc flights and 3 nights 4* hotel Marrakech)
Charity Rate: £1500
Grading: B (more info)
No of People: 8-16
Itinerary
Day 1:
Arrive at Marrakech Airport, and transfer to 4 star Hotel with Pool and Spa etc (10 min drive) Dinner & Breakfast included.
Day 2:
After breakfast we will transfer to the little village of Imlil where we begin our trek, the drive from Marrakech to Imlil village will take approx' 1hr 30 (65km).
Trekking along the Mizane Valley, we first pass the village of Aremd and then onto the pastoral shrine of Sidi Chamarouch, which attracts tourists and pilgrims from afar. Following lunch at Sidi Chamarouch we will then continue East, crossing the flood plains where our route takes us along mule tracks and up into the high rocky cliffs above the Mizane Valley.
Crossing the river the trail continues to climb steadily, snaking and zigzagging its way up to the snowline and the Toukbal Refuge (3206m), our stop for the night, approx 7hrs easy walking including stops.
Day 3:
Early in the morning we make our attempt on the summit of Jebel Toukbal, the highest peak in Northern Africa. Our route takes us up the South Cirque, crossing the stream behind the refuge. The walking is relatively straightforward, but the scree and the altitude will make the going quite difficult in parts. The views along the way making the journey more than worthwhile.
When we reach the summit (4hrs) we will see that the vistas across the surrounding landscape are quite breathtaking. From here there are unrestricted views in every direction, from the Marrakesh Plain to the High Atlas in the North and as far South as the Anti-Atlas and the Sahara. We will then retrace our steps and return down the mountain and head back to the Toubkal Refuge where we will have lunch and then spend the night.
Day 4:
Today we will walk back from the Toubkal Refuge to Imlil where we will have lunch, and then transfer by vehicle back to Marrakech.
We will return to the same hotel where our celebratory Dinner & Breakfast are included.
Day 5:
Free day in Marrakech including a Guided City Tour around the historical monuments and traditional markets. We will be spending the night in the same hotel Dinner & Breakfast included.
Day 6:
Free day in Marrakech followed by evening transfer to Marrakech Airport approx 1700hrs.
What's Included
Professional Leadership by an experienced and qualified guide whom is a current mountain first aider.
Hotel HB accommodation in Marrakech and Berber refuges whilst trekking on a full board basis.
All transport and transfers throughout the trek. (including mules to carry baggage)
Travel to and from Marrakech from UK
Certificate of Completion
Not included
Meals other than stated
Clothing and Equipment
Tips and Gratuities
Bottled Water
Other Information
Accommodation
Accommodation will be in 4 star hotel in Marrakech on a HB basis, and simple refuges on full board (packed lunches) during the trek.
Equipment
Normal summer hill walking clothing and equipment will be required along with a 1-2 season lightweight sleeping bag or hut liner, a lightweight insulated summit jacket and a tarpaulin style soft kit-bag (for mule transportation)
Transport
Local transport will be utilised throughout the trip.